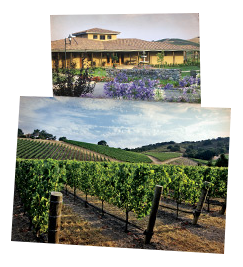 Across the way from Las Ventanas is Talley Vineyards. The tasting room features the Talley family's critically acclaimed wines and fresh seasonal produce, attracting picnic-goers anxious to take in the fresh air and inspiring views.
Talley Vineyards was founded in 1986 by Don and Rosemary Talley. The winery is now one of California's most acclaimed producers of chardonnay and pinot noir. Wines are produced under the Talley Vineyards and Bishop's Peak brands from over 200 acres of vineyards; owned and sustainably farmed by the Talley family.
Learn more about Talley Vineyards at talleyvineyards.com.