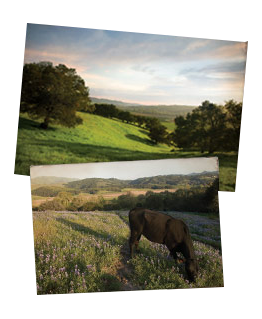 When the Talley family purchased the Biddle Ranch in 1995, Don Talley had a vision of building an agricultural cluster development on the ranchland. He reached an agreement with San Luis Obispo County allowing limited development on the land not suitable for farming in exchange for the preservation of prime agricultural land and open space.
The community of Las Ventanas—which means "the windows" in Spanish—was created from a philosophy of quality and integrity. Working closely with landscape designers and engineers, the Talleys have created a community that is sensitive to the environment and reflects the family's commitment to enhancing the natural beauty of the land.
The residents of the Las Ventanas community will enjoy the spectacular views from their windows for years to come.