Down the road from Las Ventanas is the quaint, historic village of Arroyo Grande. Overflowing with local heritage and artful charm, it is committed to preservation and tradition.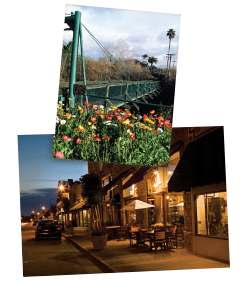 Branch Street, named after Francis Ziba Branch, an Arroyo Grande Valley pioneer, is a throwback to the 1890s, filled with historic architecture, antique shops and wooden facades. Locals congregate at the Farmers Market on Saturday mornings, buying fresh vegetables, fruit and flowers while enjoying the music and creations of local artists. In the fall Arroyo Grande hosts its annual Harvest Festival, one of the city's most widely anticipated events.
Numerous historic sites designate Arroyo Grande as a history buff's mecca. The Paulding House (1889), home of the city's first resident medical doctor was occupied by his daughter until 1985; the Swinging Bridge (1875), originally built from rope, provided access to land that was divided by the Arroyo Grande Creek; the Santa Manuela Schoolhouse (1901) is the county's last remaining one room school. El Rincon Adobe (1863) was built by the Branch family and was the home of Ramon Branch, his wife and twelve children for decades. This beautiful landmark became Talley Vineyards' first tasting room in 1988.