Living on California's Central Coast has a number of benefits, and Talley Farms' Fresh Harvest CSA program is one of them. A CSA program offers sustainably grown, local produce for you and your family while supporting the local farming community. Talley Farms has a number of subscriptions available, and they'll also deliver to your home or office.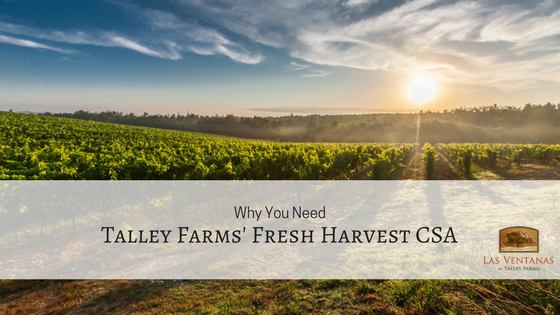 A CSA Program Helps You Experiment
We can often get into buying habits with produce, but a CSA program can expand your selection. Whether it's trying a new veggie you previously thought you didn't like or trying something new, using a CSA program like Talley Farms' Fresh Harvest can deliver produce you never thought to try.
Because CSA programs are seasonal, your boxes will change throughout the year. This is a great way to avoid getting tired of produce, and also ensures that you'll only receive the freshest produce.
A CSA Program That Delivers
There are two ways to get your Fresh Harvest CSA box: pick it up in San Luis Obispo, or have it delivered to your home or office. Though Talley Farms is located in Arroyo Grande, they can deliver anywhere in California and Arizona, as well as parts of Nevada. You can get fresh, high quality produce that is sustainably grown delivered to your door!
While a common downside of joining a CSA is heading to both the grocery store and the farm. But with Talley Farms' Fresh Harvest deliveries you won't need to. Just select the box size you need, and Talley Farms will make weekly deliveries.
A CSA Program Supports Local Farmers
When you choose a CSA program, you're supporting local farmers. Grocery stores may have limited quantities of local produce, but most of their product is from outside the area. Instead of using more fuel to ship product across the country, joining one also helps reduce energy use (and therefore cost).
As larger companies continue to affect the farming industry, it's important that we help local farmers succeed, which is why we love CSA programs.
CSA programs are an easy and convenient way to support local farmers while still receiving high quality produce for your family. When you subscribe to Talley Farms' Fresh Harvest CSA program, you'll get sustainably grown produce delivered to your door.