There are a number of reasons that contribute to why Arroyo Grande is such a pleasant city to live in. Whether you are looking to start a family in San Luis Obispo or you are looking for a place to retire, it is easy to see why the Central Coast attracts families from all over the country. Keep reading below to see our top five reasons why Arroyo Grande is the perfect place to settle down.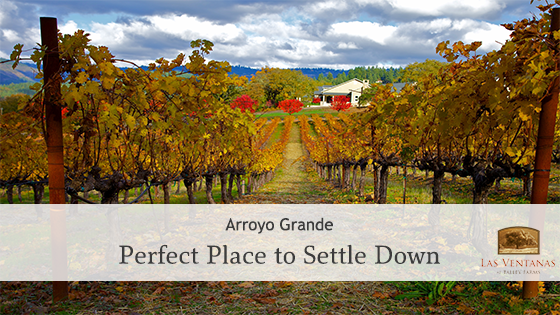 Beautiful Year Round Weather
It is hard to beat the beautiful year round weather in Arroyo Grande! The temperature ranges from mild in the winter months with a low of 43 in January to an abundance of pleasant, sunny days in the summer months with a high temperature of 70 degrees in July. Arroyo Grande enjoys 286 days of sunshine each year, compared to the US average of 205.
Arroyo Grande was also rated 86 out of 100 on the Comfort Index, where a higher score indicates a more comfortable year-around climate (The US average is 52 out of 100). There is no shortage of beautiful days to enjoy the nearby beaches or go for a stroll around the Historic Village of Arroyo Grande!
Endless Access to Outdoor Activities
Arroyo Grande boasts a number of green, rolling hills and countless miles of biking and hiking trails to explore. Locals enjoy an abundance of outdoor activities just a few miles away from their home, including surfing, biking, golfing, horseback riding, paddle boarding, and kayaking.
You can enjoy your weekends exploring over the 30 miles of trails in San Luis Obispo, going for a stroll on the beach, or trekking through the 11 California States Parks in close proximity to Arroyo Grande.
Farm Fresh Produce & Fantastic Dining
San Luis Obispo proudly promotes a history of farm to table dining as well as supporting local farmers. Arroyo Grande is home to many farms that provide residents and restaurants with organic and fresh produce, meats, and seafood.
You can find a restaurant to suit even the pickiest of pallets in the surrounding Arroyo Grande area. We recommend enjoying a glass of sangria and ceviche at one of the fine seafood restaurants in Avila Beach.
Wineries Galore!
Look no further than Arroyo Grande for premium quality wineries! The wineries of Arroyo Grande are well known for their Pinot Noir, Chardonnay, and Syrah. The moderate climate of Arroyo Grande enables the grapes to develop complex flavors. Discover award-winning wineries along SLO Wine County's Southernmost wine trail with view of the ocean and the California hillside along the way.
Arts and Entertainment

You can find exceptional museums, art galleries, and theaters just a short drive away from Arroyo Grande. Enjoy fabulous performing arts at the Performing Arts Center (PAC), located on the beautiful Cal Poly campus. Every Friday evening in the summer, you can unwind at the free concert series with live music and local bands at the Mission Plaza in San Luis Obispo.
Now we ask you, what are your favorites things about living in Arroyo Grande? Leave your answer in the comments below!