Building a home is an exciting time, but the process can definitely get confusing. In order to ensure a smooth home building process, there are a number of things you need to know. This includes everything from the timeline to choosing upgrades. When you take the time to thoroughly learn the process, your spend less time stressing and more time enjoying the progress.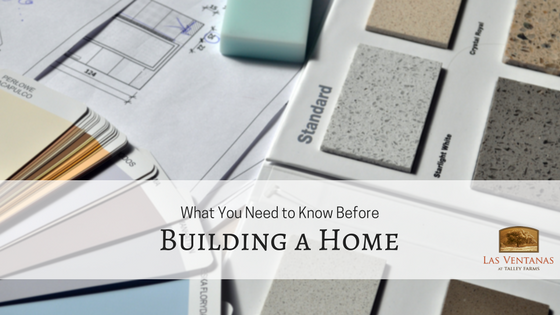 Familiarize Yourself with the Timeline
Building a home comes with a range of possible delays. Weather, sub contractors, and materials can all contribute, even if your builder is experienced and organized. When coordinating your move in date with a lease ending or selling your current home, it's important to know the specifics of your new home's timeline.
Knowing the progress of your house throughout the building phase, as well as the market for your current home, can help ease your schedule-related stress.
Look for Builders with the Right Experience
It should go without saying that you want an experienced builder, but experience varies. Every builder has different strengths, including their style, energy efficiency, and specific neighborhoods.
However, there's also another piece to finding the right builder: your compatibility. When you choose the builder, make sure it's someone you have good interactions with. This is going to be a long-term relationship, so it's important that you and your builder get along.
Know Your Upgrades Budget
When building a home, there is typically a budget for elements like faucets, flooring, cabinets, and more. You can choose to stay within this budget and choose accordingly, or you can choose to upgrade. This largely depends on personal preference and the base options your builder offers.
If you want to upgrade your flooring and cabinets, for example, be sure to include that in the final cost of your new home. If you care more about your flooring than cabinets, you can budget accordingly. When you know your budget for upgrades, you can better plan ahead so you can move into your dream home.
Build for Energy Efficiency
Building an energy efficient home is more than living "green". It can also significantly reduce your utility bills. Energy efficient homes feature some unique characteristics, so it's important to find a builder and architect with that experience.
It's also more involved than adding smart thermostats or preparing your roof for solar panels. By placing your laundry room, bathrooms, and garage facing south, you can maximize your home's exposure to the sun. When you work with an experienced energy efficient builder, they will know every detail to make your home as efficient as possible.
Research Your HOA
Your new Home Owner's Association may vary from your current HOA, so an important step of building your home is doing your research. This includes your fees, communication, and rules they've put in place. Every area is different, and your realtor can help you learn as much information as possible now before moving in to your new home.
It will serve you better in the long run to do this now, before you move in and learn about a higher fee or new rules you aren't used to.
Building a home doesn't need to be stressful. Instead of worrying about how quickly your builder is working and whether your home will be energy efficient enough, take the time to educate yourself now before beginning the process. We promise it's worth it!